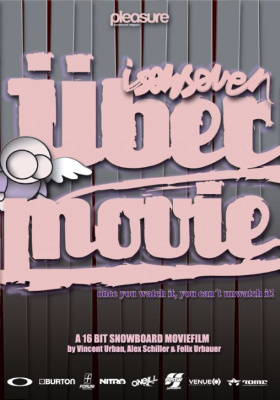 Trailer BGM:
Patrick Wolf
- "Teighnmouth",
Patrick Wolf
- "Overture"
[2007] Undermovie - Isenseven
www.isenseven.de
www.myspace.com/isen7
* Title: Undermovie
* Production:
Isenseven
* Film by: Vincent Urban, Alex Schiller & Felix Urbauer
* Release Date: 2007
* Running Time: 67 minutes
* Aspect Ratio: 16:9
* Description: This year's Isenseven DVD comes with an additional movie instead of the common bonus-section we used to have. The "Undermovie" features stories about confused travels, re-booking flights, rude parties, bad luck, good times with your best friends and maybe also some snowboarding. Like last year, the July month clip is a look back on our season, a colorful portfolio of shots that represent all the unique sessions and trips we enjoyed - and it also gives you a glimpse on how the "Undermovie" will look like. Download this clip at high quality at
Isenseven
.
* Ubermovie features the riding of: Marco Smolla, Basti Kuhn, Daniel Ek, Christophe Schmidt, Erik Botner, Fredrik Evensen, HC Bergheim, Ludwig Lejkner, Andre Kuhlmann, Michi Zirngibl, Fips Strauss, Chris Patsch, Tobi Strauss, Peter Konig, Rene Schnoller, Xaver Hoffmann, Torgeir Berre.
* Supported by:
OAKLEY
,
BURTON Snowboards
,
NITRO Snowboards
,
FORUM Snowboards
,
O'Neill
,
ROME SDS
,
FLOW
, Venue
* Soundtrack:
Intro: 01.Headlights - "Your Old Street"
02.Malcolm Middleton - "A Brighter Beat"
03.Of Montreal - "Suffer For Fashion"
04.Ra Ra Riot - "Dying is Fine"
05.Windmill - "Tokyo Moon"
06.The Beautiful Girls - "I Thought About You"
07.Pony Pony Run Run - "First Date Mullet"
08.Plastic Operator - "Parasols"
09.Polytechnic - "Hoof"
10.Husky Rescue - "Hurricane (Don't Come Knocking)"
11.Spoon - "The Underdog"
Outro: 12.Soko - "I'll Kill Her"
* Rating:
MOVIE: ★★★★★★★★★☆
MUSIC: ★★★★★★★★★☆
RIDER: ★★★★★★★★☆☆