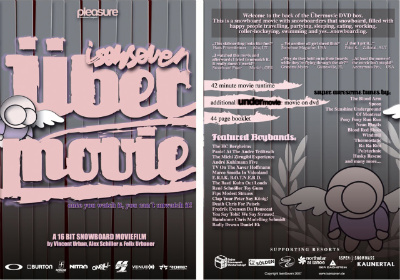 Trailer BGM:
Maximo Park
- "Our Velocity"
[2007] Übermovie - Isenseven
www.isenseven.de
www.myspace.com/isen7
* Title: Übermovie
* Production:
Isenseven
* Film by: Vincent Urban, Alex Schiller & Felix Urbauer
* Release Date: 2007
* Running Time: 42 minutes
* Aspect Ratio: 16:9
* Description: 15 lovely Euro-boys and marvelous athletes doing grandiose trips all over the world during this super awesome tropical season - all captured with superb camera work and presented with magnificent editing styles. That's "Ubermovie" by Isenseven. Well,... actually, it's just an entertaining snowboarding movie. Not more, but also not a bit less. 45 Minutes of creative fun snowboarding by Germanys most infamous crew to the sound of happy indie-pop you'll love. This package has a lot to offer. Next to the main movie, you will find Undermovie on the same DVD, a 80 minute documentary film about the whole season of Isenseven, featuring B-footage and funny stories from trips to California, Colorado, Utah, Canada, Austria, Switzerland and Norway. Also, there is a 44-page booklet coming with the DVD, including Making-Ofs, a gallery and a lot of amusing information you will probably never need.
* Featuring great tunes by: The Blood Arm, Sunshine Underground, Spoon, Pony Pony Run Run, Thermostatic, Neon Plastix, The Blood Red Shoes and many more...
* Ubermovie features the riding of: Marco Smolla, Fips Strauss, Fredrik Evensen, Chris Patsch, Basti Kuhn, Tobi Strauss, HC Bergheim, Erik Botner, Peter Konig, Daniel Ek, Michi Zirngibl, Andre Troltzsch, Rene Schnoller, Xaver Hoffmann, Andre Kuhlmann, Ludwig Lejkner, Torgeir Berre, Christophe Schmidt.
* Supported by: Pleasure,
OAKLEY
,
BURTON Snowboards
,
NITRO Snowboards
,
FORUM Snowboards
,
O'Neill
,
ROME SDS
,
FLOW
, Venue
* Soundtrack:
Intro: 01.Pony Pony Run Run - "First Date Mullet"
02.The Neon Plastix - "Gentelemans Gold" (Chris Patsch)
03.The Blood Arm - "Suspicious Character" (Peter Konig, Tobi Strauss)
04.Hilltop Hoods - "The Hard Road" (Ludwig Lejkner, Torgeir Berre, Christophe Schmidt)
05.The Wombats - "Moving to New York" (Fips Strauss)
06.Jasper James & The Jet Set - "This House" (Andre Kuhlmann, Xaver Hoffmann)
07.Blood Red Shoes - "It's Getting Boring By The Sea" (Rene Schnoller, Xaver Hoffmann, Andre Kuhlmann, Andre Troltzsch)
08.Thermostatic - "So Close So Near" (HC Bergheim, Erik Botner, Daniel Ek)
09.Of Montreal - "Suffer For Fashion" (Michi Zirngibl, Basti Kuhn)
10.Windmill - "Tokyo Moon" (Fredrik Evensen, )
11.You Say Party! We Say Die! - "Cold Hands! Hot Bodies!" (Marco Smolla)
12.The Sunshine Underground - "Commercial Breakdown"
Outro: 13.Spoon - "The Underdog"
* Rating:
MOVIE: ★★★★★★★★★☆
MUSIC: ★★★★★★★★★☆
RIDER: ★★★★★★★★☆☆